How to View Older Versions of Websites
Fortunately, it is possible to view the older versions of websites and in this post we will demonstrate how to do that.
It may happen that sometimes you revisit a website after a long time and you notice that it is completely changed and the page you are looking for is removed. Or sometimes, you can't find what you are looking for on a website that you are sure it was there before. Sometimes, the website itself may have gone for good. In such cases, most probably you will wish that you had a time machine to go back and view that site at its state when you last visited it. Although going back in time is not possible, there are two methods that we can use to view the older versions of a website to some extent.
Web Cache
Most search engines like Google and Yahoo, crawl websites frequently and create one copy of them in their web cache so that it can be accessed by visitors at a later time. The cached version of a website is also updated and it goes only a few days back. What this means is that if you want to see an older version of the website, web cache will not be useful for you.
So, how do you find the cached version of a website on a search engine?
I will give a quick example from Google. When you make a search on Google, you will see a list of pages on the search results page like you see in the image below:

(Google is a registered trademark of Google Inc., used with permission.)
Notice the small, green, down-pointing arrow just next to the page URL. When you click on that arrow, a small menu will be displayed with two options: Cached and Similar. If you select Cached option, Google will take you to a slightly older version of that web page. You will see a notice at the top of that page which shows you the last time the cached version was updated.

At the time of writing this post, the above cached version goes back to about two and a half days. Know that it will be only that specific page's cached version and when you click on any link on the page, it will take you to the current version. Well, it cannot be said that this is the perfect way for checking old versions of websites but it is a nice thing to have just in case.
WayBack Machine of Archive.org
For those who haven't heard about this site before, Archive.org is a non-profit website (such as Wikipedia) that creates an archive of the Internet as we know it. It has a crawler that visits all sites (that allow its visit) regularly and creates snapshots of the sites as recordings that can be accessed publicly at a later time. It provides a search interface through the following link to check the older versions of websites: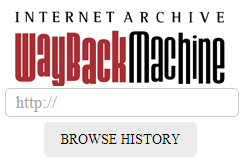 As its name implies, WayBack Machine takes you back to certain points in time and provides an archived version of the entire website. For example, I did a quick check for W3Schools.com and noticed that it was archived quite a lot of times. There are some versions as older as from 2000! Isn't it nice to see how popular sites looked years ago?
These are the two methods that help you view the old versions of websites on the Internet. If you know of any other methods I would like to hear from you.