Free and Effective Ways to Advertise Your Website
You don't have to pay big amounts of money for marketing and advertising your website or product. In this post, I will talk in detail about some free and effective ways you can use in advertising your website.
When you build a new website, the first thing it needs is "to be known". If nobody knows about your website and if it is not easily findable on the Internet, you cannot expect much visitors to it.
Whether your website is a hobby blog, a business website or a commercial project of any sort, the reason you put it online is most probably because you want others to come to your site and see what you have to say or offer. Unless you make your site easy to find and unless you advertise your site in proper ways, it may as well share the fate of a shop with no visitors/customers that is located on a desolated road no one ever passes.
If you want your website to be visited by others, you should first accept that there is nothing wrong about marketing or advertising your site to attract more visitors, hence achieving whatever goals you have with your site. That is of course, within reasonable limits and without entering into the zone of spamming and annoying others by applying wrong, unethical or illegal methods of advertising.
You can pay ad agencies or marketing platforms fortunes to let them advertise your website for you. Another option that you have to attract visitors to your site, which may be even more effective, is to market it yourself. In the rest of this post, I will talk about the things that you can do to achieve that.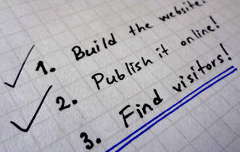 Make Your Website Visible to Search Engines
First and foremost, you should make your website visible to search engines like Google and Bing. What I mean by that is that you should allow search engines (at least the nice ones) to crawl and index your website so that they may list your web pages on their search result pages, hence refer visitors to your site. Considering that you don't pay anything for a visitor that a search engine sends your way, imagine how powerful that can be.
If you built your website from scratch without using a CMS (content management system) or a template, by default your website will be visible to search engines unless you instructed to be invisible via the robots.txt file. Some CMS's may have an option to make your website visible or hidden to search engines, so before publishing your website make sure that option is set to visible.
Furthermore, you can improve your website's visibility and increase the number of free visitors search engines refer to your site by applying search engine optimization.
Tell Family, Friends and Co-workers
Once your website is published online and indexed by search engines, i.e. someone can find it when they look it up on a search engine, you can start telling about your website to everyone you know starting with your family members, your friends, your co-workers and even your neighbors. Word-of-mouth marketing is one of the most powerful marketing methods almost as old as humanity and it may work wonders for your website too.
You wouldn't know how many people you may reach by telling about your website to those who you know. A friend of a friend of yours may be a popular blogger and she may decide to feature your website on her blog, which will most likely result in a good amount of visitors to your website.
So, never skip this step, even though you may hear discouraging comments and feedback about your website. If you want more people to know about it, just do it.
Post on Social Networks
Social networks will always be popular platforms where people frequently visit and interact with their friends and followers. Your next step is to post about your new website on your social profiles on websites such as Facebook, Twitter, Instagram, Pinterest and LinkedIn etc. The more social networks you post shares about your website, the better. Just don't overdo it and annoy people.
If you don't have an account on some of these websites, you should do so soon and start posting updates about your website. The good thing about social networks is that they have sharing and commenting mechanisms that allow a post to reach to even a wider audience than you could have imagined.
Create Videos and Upload to Video Sharing Sites
Our generation is more inclined to watching, than they are to reading; hence it is a good idea to create videos about your website or related to your website content and put on popular video sharing sites such as YouTube and Vimeo in order to attract more visitors to your site.
Make sure that your videos are meaningful and interesting enough to grab the attention of your potential visitors. Otherwise, you shouldn't expect much visitors to your site simply by uploading irrelevant or nonsense videos.
Participate in Forums
Forums are still widely used platforms where people come together to exchange information or find entertainment. You can find multiple forums on pretty much any topic that you can think of on the Internet.
Find forums that are closely related to your website topic, join them and start contributing to discussions by asking new questions and answering other users' questions. Some forums allow you to have a forum signature where you can place your website link or they offer a subforum for newcomers to introduce themselves and mention about their websites.
The more active you are on the forums, the more visitors you may expect to have on your website referred by these forums.
Contribute to Blogs
Following personal or business blogs and contributing to their posts is also a nice way to let others know about your website. Most blogs allow you to have your website URL in their comments, which means that by making relevant and interesting comments on blogs, you will be helping spread the word about your website.
There is a thin line between appropriate blog commenting and spamming that you should be wary of. If you do it excessively and if you keep posting irrelevant or meaningless short comments on blogs, not only you will not have any benefit from it but also you will have the risk of having your website devalued by search engines due to the low quality comment links.
List on Web Directories
Web directories are not as popular as they used to be but depending on what type of website you have, listing it on a couple of directories may have its benefits in the long term. For example, if your website is a business website, listing it on business directories will surely help people who visit those directories to find your site easier.
Distribute Press Releases
Press releases have always been highly important in marketing websites and products. You don't need to be a huge corporation or a popular celebrity in order to issue a press release. You can write your own press release or have someone else write it for you, and distribute it to be published on press release sites.
Contact Other Site Owners
One of the effective ways of advertising your website, which is actually used more than you would think, is to contact other website owners who have similar websites and ask them to be included in their lists or featured in a post about your site etc. You can even offer a freebie to their readers to increase your chances of approval.
Create Viral Content
Another highly effective method for attracting visitors to your website is to create viral content. The type of which people enjoy reading/seeing and would race to share it with their friends. How you do that is up to you, you can check what viral content that grabs your attention or what viral content that is shared by huge amounts and create your own viral content strategy accordingly.