How to Find Duplicate Copies of Images on the Web
If you are suspecting that your images might be being used online by others without your consent, you should do regular checks to make sure that's not the case. In this post, I will show how you can find duplicate copies of any image on the web.
When you put an image online, whether it is a personal image you uploaded to your social network profile or a professional image you uploaded to your website such as a stock photo, a graphic design or a product picture, there is a high possibility that it may be copied and used by others without your authorization.
There are times when some people do that with no ill intentions, simply because they don't know the fact that they can't freely use an image (or anything else) they found on the web as they wish. But often times, images are used knowingly without permission by other webmasters or users who simply don't care about others' rights. Either case, unless you have offered the rights to do so, for example by making them freely available by attaching a license or releasing them into the public domain, nobody has the right to use your photos in any way without your consent.
To fight with this issue and to protect your images, hence protect your privacy and/or your financial rights, you can do occasional checks on the web to find out if any website is using your images without your permission. Below, I will talk about a free method that you can use to keep track of your images and check if any duplicates of them are being used elsewhere.
How to Find Duplicate Copies of an Image
The first thing you can do to find out if a third party website is using your images or not is to use the Image Search feature of the search engines. I will demonstrate how to do that using Google but other search engines that provide image searching feature work more or less the same.
STEP 1: Open Google in your web browser.
STEP 2: Click Images link at the top right corner.

(© 2020 Google LLC, used with permission. Google and the Google logo are registered trademarks of Google LLC.)
This will open Google's Image Search page where your searches will return only image files as search result and where you can make a search using an image file that is located on your computer or online.
STEP 3: Click the camera icon in the search input box which says Search by image.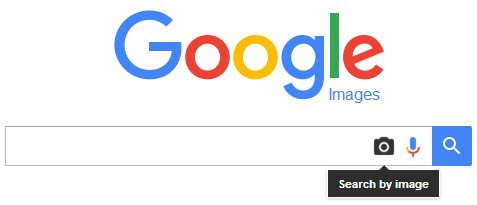 This will open Search by images window where you can select an image on your computer using the Upload an image tab or an online image using the Paste image URL tab.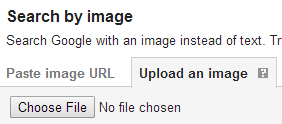 STEP 4: If you are going to do a search for an image that's stored on your computer, simply click the Choose file button or drag the image onto this window.
TIP: You can also directly drag an image from your computer onto the Image Search input box without clicking the camera icon, to make your image searches even faster.
Once you enter your image and hit the search button, a page similar to the one below will be displayed.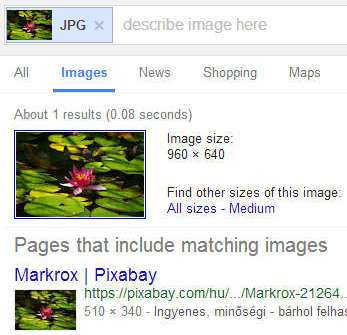 If any copies of your image is found on any website, it will be displayed in the search results. It will even display visually similar images that you can check and see if anyone has used your image by modifying it.
Note that this search will be conducted only on websites that are indexed by Google. Not all websites are indexed by Google; hence, if there are any websites using your images that are not in Google's index, this search will not find them.
You can also use this image search method to find different size versions of the same image. For example, let's say you found an image in the public domain that you have the rights to use, but you need a smaller or larger version of it. You can conduct the image search as explained above to find the same image in different sizes, that is if they exist.
This is how you can easily search and find duplicate copies of images on the web using the image search feature of search engines. This is not the only way of finding duplicates of your images online; there are some services and software that help you track your images and I will talk about them in detail in another post.