How to Edit a Playlist on SoundCloud
You can easily create playlists on SoundCloud to simplify finding and listening to your favorite music tracks. This tutorial will demonstrate how to edit SoundCloud playlists such as modifying their details, removing music tracks and deleting them.
SoundCloud is an amazing website to listen to and download music for free. It is a great place not only to find the latest songs of popular artists and bands, but also to discover up and coming musicians and talents from various music genres. Though it has a paid premium option with additional features, listening to music on SoundCloud is totally free for as long as and as many times as you want.
Being one of the most popular and best free music listening websites, SoundCloud offers a nice platform for its users to search, find and organize the music tracks that they love listening to frequently. One of the cool features of SoundCloud is the easy to use playlist feature, which allows you to create and edit playlists of music tracks.
In another tutorial, we talked in detail about how to create playlists on SoundCloud, now we will continue with editing playlists in simple steps.
Also Check:
How to Embed SoundCloud Tracks on Your Website
How to Edit Playlists on SoundCloud
We will assume that you already have at least one playlist created in your SoundCloud account. If you haven't created any playlists yet, simply create one following the tutorial we mentioned above.
Now, if you are ready, let's continue with editing playlists.
STEP 1: Log in to your SoundCloud account at soundcloud.com.
STEP 2: Once logged in, find your profile icon and name at the top right corner of the screen and click on it.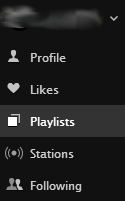 A small dropdown menu will appear with a number of links to various sections of your account such as your profile page, your liked tracks, stations, users you are following, your playlists and more.
STEP 3: Click on Playlists link to open the playlists page where you will see a list of your previously created playlists and other users' playlists that you liked.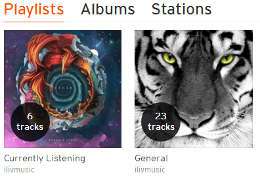 STEP 4: Click on the playlist that you want to edit.
This will open the individual playlist page, where you can make edits, add tags, share or delete your playlist.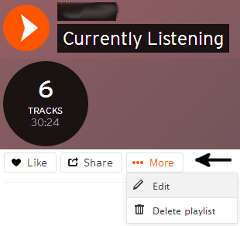 STEP 5: Below the playlist header section, you will see some buttons such as Like, Share and More. Click the More button and then select Edit.
A popup window will be displayed, where you can edit your playlist including its basic info, tracks and metadata.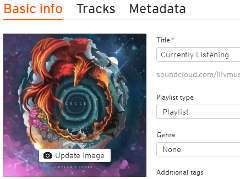 Some of the things that you can edit about your playlist include changing its title, uploading a playlist cover image, selecting playlist type, genre and release date, add tags, add a description, make it public or private and edit its metadata including the buy-link, record label and license.
Just remember to hit the Save Changes button after you are done with the edits, otherwise they won't be saved.
How to Remove Music Tracks From a Playlist on SoundCloud
Removing music tracks from your playlist is quite simple.
STEP 1: Simply follow the steps explained above and select the Tracks tab on the playlist details popup window at Step 5.
On the Tracks tab, you will see the list of tracks that are currently on this playlist.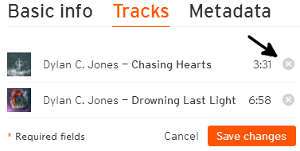 STEP 2: To remove a track from your playlist, click the remove button (circular X icon) to the right of the track name.
STEP 3: Once you are done removing tracks from your playlist, click the Save Changes button to update the list of tracks on your playlist.
How to Delete a Playlist in SoundCloud
Finally, if you no longer want to keep a playlist, you can easily delete it.
STEP 1: On Step 5 of the first section above, where you have just opened the playlist page, after clicking the More button, select Delete Playlist option.
A confirmation box will appear, asking you to confirm the deletion.

STEP 2: If you are sure about deleting your playlist, proceed by clicking the Delete button.
The playlist will be deleted; obviously the music tracks on the deleted playlist will not be deleted. Note that this action is unrecoverable, meaning that once a playlist is deleted, there's no way for getting it back.