How to Search People by Email on Facebook
In this post, we will go over our options for searching people on Facebook via their email addresses.
Facebook has a feature that allows its users to find and add their contacts using their email account on an email service such as Yahoo Mail, Microsoft Outlook or Gmail. This import can be easily done on the Find Friends page, that you can access at https://www.facebook.com/find-friends/browser/ after logging in to your account.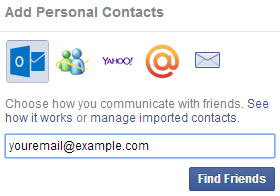 You can import your friends and contact with your own email address using the form in the Add Personal Contacts section. This is an easy and nice way to quickly add your friends and contacts from your email accounts to Facebook, so that you don't have to do it manually. However, this is not what we will explore in this post, which is about searching people on Facebook by their emails, not yours.
I demonstrated how you can search people on Facebook by city on another tutorial. Similarly, you can search for people by their names, their hometowns, their high school, college or university, by their employer or by your mutual friends. On the same Find Friends page I mentioned above, you will see the Search for Friends section just below the Add Personal Contacts section.
But what about finding someone on Facebook with their email address? Is it even possible? To an extent, yes it is and I will talk about in which cases it is possible below.
Find People by Their Email on Facebook
If you know how to use it, the search box of Facebook, the one that is at the top of the page, may work wonders and find you exactly what you are looking for. Surely, there are limitations to what you can and what you can't find based on the privacy preferences of the people you are looking for, but assuming, the person you are looking for does not have any privacy concerns and let others find them on Facebook, you have a high chance of finding them. So, let's see now how searching people by email works.
Step 1: Log in to your Facebook account.
Step 2: In the search box at the top navigation bar, enter the email address that you want to search.
If there is a Facebook user account that is registered with that email address and if that person has allowed others to look her/him using their email address, in their privacy settings, then that person will show up as the result of your search.
For example, let's say you have a friend named as John Doe and you know that your friend had used johndoe@tutsandtips.com as their email address for registering their Facebook account and he is allowing others to look him up via his email address. If you make a search using his email address, you will see that he will be returned as the search result.

You can try this on your own friends of which that you know their email address too. Some of them will show up in your searches, some of them will not as not everyone allows others to look them up via email.
By the way, the privacy setting I am referring to can be found on the Privacy Settings and Tools page that you can access via the Settings link for your account. You will see that there is an option to control who can look you up using the email address you provided during the registration. If you click the Edit button next to it, you will be able to adjust who can look you up via email: Everyone (Facebook users that you have no connection), your friends or friends of your friends.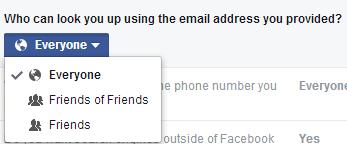 Remember that if a person is not your friend or not a friend of your friends, then only if they chose the Everyone option will you be able to find them by their email address.
Another Way to Find People on Facebook with Their Email Address
If you can't find the person you are looking for using the method described above, you can try one more thing that may help you find that person.
Open your favorite search engine (e.g. Google) and make a search using the following query by replacing the email address with the one you are looking up:
site:facebook.com "johndoe@tutsandtips.com"
If there is any Facebook profile or page or entry that has this email address displayed publicly, you will find it in the search results. This will not always work but still worth a try as your last option to find someone on Facebook only by their email address.