How to Import Outlook (Hotmail) Contacts into Your Facebook Account
Did you know that you can easily import all the people in your Outlook contacts to your Facebook account easily? In this tutorial, I will demonstrate how to import Outlook contacts to Facebook as your friends.
There a number of ways for searching, finding and connecting with people on Facebook. For example, you can search for people, including your relatives and friends, by state, by city or by email using special search queries we talked about in other posts.
Importing your contacts from your email accounts, instant messengers (e.g. WhatsApp or Skype) and other similar platforms is another way of easily finding and adding people as your friends on Facebook.
Facebook offers a simple to use contact importer tool that you can use to import your contacts by entering an email address of yours (and a password where necessary). This tool supports most of the major email account providers such as Yahoo, Outlook, AOL, Mail.ru and more. It is a great tool for quickly adding all your friends that are stored as contacts in your email account.
Basically, when you import a list of contacts from an email account such as Outlook, the owners of those email addresses will automatically be sent a friend request on Facebook, that is, if those email addresses are actively used for their Facebook accounts. Since this tool may send a friend request notification to everyone within your contacts, it is better to use it only for friends and personal contacts that you think wouldn't mind getting a request from you. It is not much recommended for use with professional contacts.
A word of caution before explaining how to import your Outlook contacts: As it is also explained in your Invite History page (accessible after login), though your contacts will be visible to only you after an import, the information you've imported about your contacts will be freely used by Facebook.
Now, let's see how importing contacts works.
Import Your Outlook Contacts to Facebook
STEP 1: Open Facebook and log into your account: facebook.com
STEP 2: Click on the Find Friends button on the top navigation bar.

This will open the Find Friends page where you can see incoming friend requests, your sent friend requests, people you may know and a number of options to search and find people and connect with them. Additionally, you will see Add Personal Contacts section at the top right side.
STEP 3: Make sure the Outlook icon is selected in the Add Personal Contacts section, then enter your Outlook email address into the input box and press the Find Friends button.
Facebook's contact importer tool supports mostly all Microsoft - Outlook - Hotmail related domains that you may be using for your email, some of which are hotmail.com, live.com, outlook.com, windowslive.com and msn.com.
Note that if you enter an email address that is provided by or hosted on a domain that is not supported by Facebook contact importer, you will get a notice "We can't import contacts from this address yet." and you won't be able to import your contacts. You may check which domains are supported from the supported email addresses link below that notice.
When you click on the Find Friends button, a popup window will appear, asking you to sign in to your Outlook account, unless you are already logged in.
STEP 4: Sign in to your Outlook account by entering your email address and password.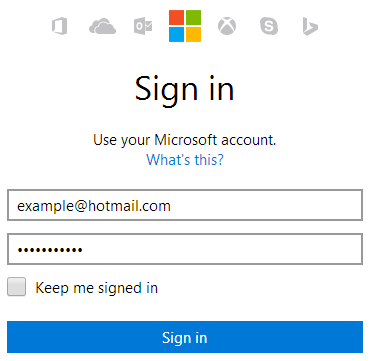 Facebook will check your Outlook contacts and if any of your contacts have a Facebook account with their email address, they will be listed on the next screen.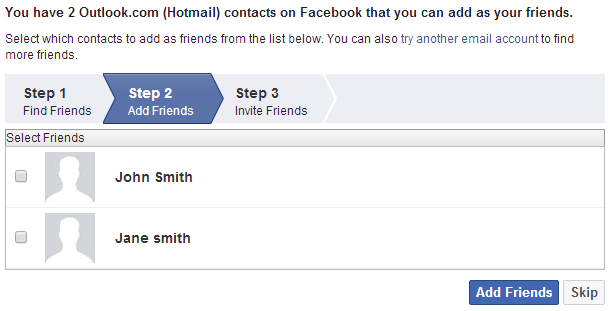 You can select your friends from this import list to add as friend on Facebook.
STEP 5: Check the contacts that you want to add as a friend and proceed by clicking the Add Friends button, which will send you to the next step.
On this step, people on your contact list who don't have a Facebook account attached to their email addresses will be listed. You can select them and send invitations to join Facebook if you want, or skip this step.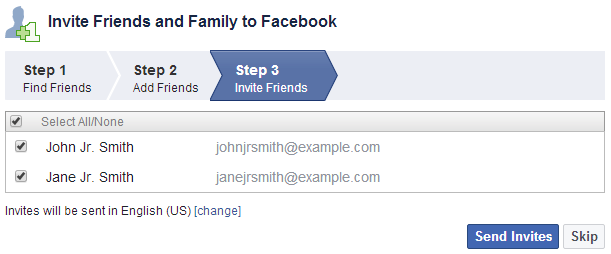 If you have followed the above steps successfully, your Outlook contacts list should now be imported to your Facebook account. From this point forward, you can edit your contacts or remove them from the Manage Invites and Imported Contacts page.
During your import, if you stumble upon any email address that you have no idea to whom it belongs, you can do a reverse email lookup to find its owner.