How to Add an Addon Domain to Your Hosting Account
Registering a domain name is not enough for publishing a website. You first need to add it as an addon domain to your hosting account and we will talk about how to do that below.
In a previous post, I talked about setting name servers for your domain name, and now I will talk about the next step in publishing a website, which is to add your domain to your hosting account.
If you don't have a hosting account yet, you should know that you need to host your website and publish it online so that people from all around the world can find it. To host and publish your website, you can use a third party hosting service or host the website yourself by building a web server at your home or office. I will not recommend this unless you have experience in building web servers and know what you are doing.
You can get general purpose web hosting for less than $10 a month and even lower if you will host only a single site with a low traffic margin. If you don't have the resources or technical skills required to build your own web server, then the only option you have is to use a third party service for hosting. And this is what about 99% of website owners do.
As an example, I have been using Hostgator to host my websites for about six years now and I can recommend them to you since I didn't have any major issues with their services so far.
At this point, I assume that you already have a web hosting account that allows you to host more than one domain and I will show you how to add an addon domain briefly.
Firstly, make sure that the name servers for your domain are properly set. Then, login to your hosting account and go to the "Domains" section. This will be different in different hosting providers but if your hosting has cPanel, it will be more or less the same. Select "Addon Domains".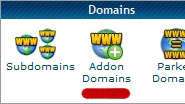 On the next screen you will be asked to enter the details related to the new domain name. Type in your domain name including its extension (.com, .net, etc.) and create a strong password for it. The subdomain/FTP username and document root are automatically created but I removed them since I don't want to reveal such specific information about my hosting account.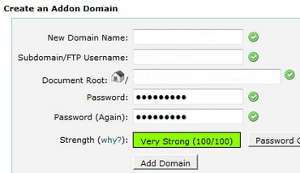 Once you complete the form and press the Add Domain button, your domain will be added to your hosting account and ready for use.
You can now upload your website files and content and publish your website online.