How to Set Name Servers for Your Domain Name
Once you register your domain name, you will need to set the name servers for it before you can publish your website online. Let's see how to do that below.
The first thing you will need when or after registering a domain name is to set its name servers so that you can use that domain name as you wish. Some of the domain registrars has an option for setting the name servers at the registration process and some other registrars provide an option to change the name servers after the registration is complete.
Since I use Namecheap as my domain registrar and Hostgator as my web host, I will demonstrate how to change name servers of a domain name by giving an example from those sites.
Before going on, let me mention that if you will not host a website for that domain name, i.e., you will only use email forwarding, URL forwarding etc. then you don't need to bother with setting the name servers. Otherwise, if you will create a website for that domain and host it, then you have to set the name servers correctly.
Namecheap gives an option to set the name servers during the checkout process. You can see that from the image below: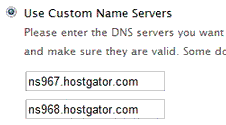 Use Custom Name Servers option allows you to set the name servers as you wish. You can learn about your name servers from your hosting account. Mostly, that information will be visible on the front page of your hosting control panel. If you cannot see it, contact your hosting provider and they will give you the name server details.
If you are hosting with Hostgator or another hosting provider with cPanel, you will see your name server information at the bottom-left corner of the screen similar to the image that shows my name server details below: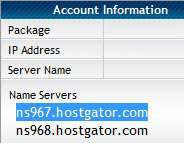 Name server information is public, I mean it is not something you should worry about protecting as you can see the name server information of any website from sites like who.is. However, you should protect any other details about your domain name and hosting account for your own security.