Must-Do Things Before Moving Your Website to a New Hosting Provider
I recently moved my website from HostGator to Namecheap and I will share some important points that anyone who is considering to move their websites to a new web host should keep in mind.
I had been a HostGator customer for over 6 years and I hosted dozens of sites with them during that time. My departure from their web hosting service was not as a result of having issues or dissatisfaction; on the contrary in that 6 years period, I had very few issues with my hosting account which were usually resolved very quickly and in general I was as satisfied as a semi-active shared web hosting customer would want to be.
The reason I left HostGator and moved to Namecheap is solely financial. In the recent years, I had become less active with my websites, closed most of them since I had no intention of keeping them active or growing them and eventually I was left with only one website on my account.
Having just one website with a minimal amount of traffic on my hosting account made me consider finding a cheaper hosting package especially since HostGator had recently increased their monthly pricing for my package from $9.95 to $11.95. It's not a huge amount to pay for web hosting, especially if you are serious about your websites and your online business and if you are generating revenue with your websites. However, like in all businesses, if there is a cheaper alternative for a service that you are paying monthly with similar features and quality, you should definitely consider that option. And that's what I did by moving my website to Namecheap.
Over the years, I had used hosting services of different hosting providers, worked on many websites and provided customer support for my web applications on a variety of hosting accounts and server setups but I had never moved a live website before. I knew how to do it theoretically but I had never done it in practice. So, I was a bit nervous about the process and I wanted to make sure that I was doing it the right way in order to have a painless transfer process without affecting my website's search engine rankings.
During the process of creating my new hosting account, moving my website and then closing my old hosting account, I took note of some important points that will guide me in case I move a live website to another web host again. Now, let's see what these points are.
Do Your Research About the New Web Host Well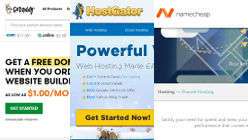 If you have already decided on which web host to move your website, you can skip this section; otherwise, please continue reading.
Unless you are publishing a website as a hobby and you don't care much about its functionality, availability, performance and search engine visibility you should be extremely careful while choosing the right web hosting provider for your website. There are hundreds of companies, global or local, that sell web hosting in a wide range of prices and with different features and server hardware qualities. Add the different types of hosting servers such as shared, virtual, dedicated and so on, and you will find yourself in an ocean of web hosting options, having difficulty finding the right one.
You should first decide on what type of hosting (shared, virtual or dedicated?) that you need for your website(s), considering the amount of traffic they get and the resources they use. Once you are clear with what you need/want, you can start searching for web hosting reviews on your favorite search engine to learn what options you have.
What I did is that I gave myself some time to do my research about various web hosts, their packages, features and pricing. I made an initial list of potential web hosts that I considered. Then, I continued with checking customer reviews about them.
Reviews are highly important in finalizing your decision; make sure to check reviews on different sources and evaluate each review for what it is provided about. There may be times that you may read reviews by frustrated customers who had some issues with a good hosting provider and provided a very negative review. Though it is not desirable, any product or service provider, no matter how good they are, may have received such reviews here or there. The important thing is do these negative reviews constitute the majority of the reviews you found about this hosting company? For example, I had almost decided on another web host due to their cheaper package but reading a lot of negative reviews about them changed my mind.
Quality and availability of customer support is another major deciding factor for choosing a web hosting company. Often times, you will not be needing to contact your hosting provider a lot as long as your server and your websites are running properly, however there may be cases of emergency due to some technical or security issues on your website and you may need to contact their support immediately. Check what support channels (phone, email, live chat etc.) they provide and even better, try to use that channels and see how quickly and professionally they respond.
Do Not Leave the Transfer to the Last Minute
Unless you are having to move your website as a result of an emergency, you should plan the timing of your transfer properly so that your website will continue to be available at all times, that is if you are planning to cancel your previous hosting account immediately after the transfer.
Let me explain why this is important. When you move your website to a new host, its DNS settings (Domain Name Server) will also have to change. Unfortunately the DNS changes do not take effect immediately on ISPs (Internet Service Provider). Hence, even after you moved your website to the new web host and adjusted the DNS settings properly, for some users on different ISP regions, the website will continue to be served from the previous hosting account. It usually takes 1-3 days for the DNS changes to fully complete. Just to be on the safe side, I would suggest leaving a week or so for your website transfer before closing your previous hosting account.
So, if you are going to cancel your old hosting account, it is better to do the transfer at least a week before your next billing day, so that you can continue to keep your site's files on the old account until the DNS change is fully in effect.
Backup Your Website Files & Databases
If you have a local copy of your website files and databases (you definitely should), you can do the transfer without needing to backup your website files and database from your old hosting account, simply by uploading your local files to the new host and creating a new database there. If the only copy of your website is on your hosting, by carefully inspecting all relevant folders, make a backup of everything including the database if your website is using one.
You can easily backup your website files using the File Manager of your hosting dashboard, or via FTP. You will find all your website files inside the public_html folder.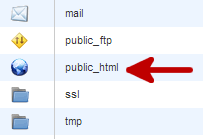 Backup Everything You May Need: Emails, Mailing Lists, Traffic Stats etc.
If you have email accounts and mailing lists attached to your websites, make sure to check them before closing your old account and make backup copies if you will be needing them in the future. You can also transfer your emails from one web hosting to another.
Traffic stats, access and error logs are also things you may consider keeping a copy of since you may need the data they provide to improve your website performance or fix issues before moving to the new host.
In short, check everything, all files, all services, everything you see in your hosting account and make a backup of the things that you may need.
Make Sure to Place Everything Correctly
This is especially important if you are moving a large website with lots of files or multiple websites at the same time. Because even the slightest mistake that goes unnoticed, the wrong placement of one single file may break your website(s) and cause you headaches and loss of search engine rankings.
If you have multiple websites with multiple directories and databases, you should pay extra caution to backup and store every item in the right place so that when you upload them to your new host, they will continue to function with no issues.
Even if you don't preserve the file and folder structure of your website, make sure to preserve its permalink structure so that search engines and old visitors will continue to be able to find your pages on the correct URLs. Also keep in mind that other websites may have linked to your pages and changing the location of your pages will cause those links not to work.
Remember to Set New DNS Settings for Your Domain
This may sound trivial for some webmasters but it is also easy to forget because of the reason I mentioned in #2, that even after the transfer is complete, your website may still continue to be accessible via the files that are hosted on your old hosting due to the ISP caching.
Your first step in moving your website should be to add your domain to the new host. Your second step should be to upload all the files and prepare the database (if any) on the new host. Your third step should be to change the DNS info of your domain name to the new host, from your domain registrar's control panel.
Once you do these three steps successfully, your website transfer will have completed. The only thing you will need to do afterwards is to monitor your website availability and performance in the next couple of days until the DNS change has taken full effect.
Delete Everything in Your Old Hosting Account
If you are going to close your old hosting account after the transfer is complete, my recommendation would be to clear it off your files, databases, emails, traffic logs and anything that you wouldn't want anyone else access even by mistake. Though reputable hosting companies can be trusted for security and privacy even after you cancel your hosting package with them, software and hardware may always cause issues that may lead to a breach.
Be safe rather than sorry: If you won't be using your old hosting account and you made backups of everything you need, delete them from your hosting account before canceling it.