How to Add Another Email Address to Your Yahoo Mail Account
If you are using multiple email addresses on various email services such as Outlook, Gmail and AOL, you can add them to your Yahoo Mail and use it as a single email box. In this tutorial, I will demonstrate how to add another email address to your Yahoo Mail account.
If you are like me, you are most probably using multiple email accounts for different purposes such as personal communications, business - work related communications, commercial messages and so on. Not only for separating the various types of communications, but also it is nice to have alternate email accounts on different web based email account providers so that you can continue using the others if you ever have issues with the one you mainly use.
TIP: You can also check ad-free email account providers if you are looking for an inbox free of advertisements.
In the recent years, with the improvements in web API technologies, free email services such as Yahoo and Outlook started to allow users to add their other email accounts to simplify their email communications and gather them in one place. In another post, I talked about how to get Yahoo Mail in Outlook, which is a great thing for both Yahoo and Outlook users.
Now, I will show you how you can add your other email accounts to your Yahoo Mail account and continue accessing your all email communications from one single place.
Add Another Email Address to Yahoo Mail Account
Before we start, make sure that you have a Yahoo Mail account and another email account that you will be adding. It can be an email address from either Yahoo or another service. Note that the following specific instructions are provided for desktop users but the steps will be more or less the same if you are following this tutorial from your mobile device.
STEP 1: Go to https://mail.yahoo.com/ and log in to your account.
After logging in, locate the Help icon at the top right of the screen.
STEP 2: Bring your mouse cursor over the Help icon, which will display a dropdown menu like the following. Do not click on the icon as it won't work; just hover over it with your cursor.

STEP 3: Click the Settings link from the dropdown menu to open the Settings popup window.
STEP 4: On the Settings window, go to the Accounts section, which will show the email addresses and social network profiles that are connected to your Yahoo account.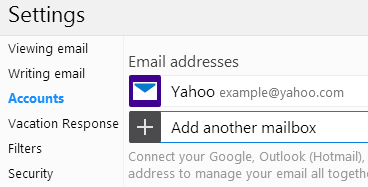 In the Email addresses section, you will see your main Yahoo email address at the top and a button to Add another mailbox below it. As the description tells, you can connect your Outlook (formerly Hotmail), Gmail, AOL or other Yahoo accounts; currently other email services are not supported.
STEP 5: Click Add another mailbox button, and select your other email account provider from the list.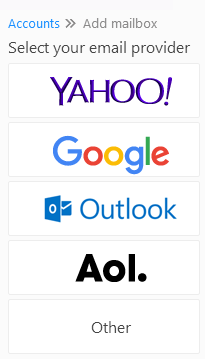 In this example, I will be adding an Outlook email account.
STEP 6: Click Outlook button. On the next page, enter your Outlook email address and click Add mailbox button after reading the instructions carefully.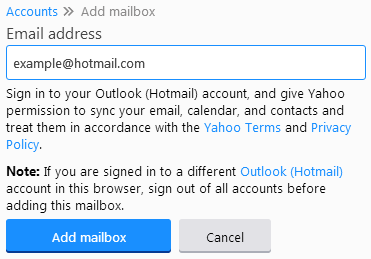 A popup window will appear, which will ask for your confirmation to give Yahoo access to your Outlook mail account.
Once the confirmation is done, your Outlook email account will be added to your Yahoo email account. From that point forward, you will be able to access your Outlook emails and contacts from within your Yahoo Mail account.
In the same way, you can add more email accounts from other services to your Yahoo account.