Email Blast Software vs. Email Marketing Services
In this post, I will talk about email blast software and email marketing services and try to help you with choosing one depending on your emailing needs.
ATTENTION! If you are planning to send commercial emails to a list of email addresses, there is something with utmost importance that you should pay attention to, before you hit the Send button. It is to be in compliance with the anti-spam laws and regulations.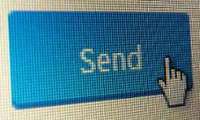 This will not be a detailed post about what to do and what not to do to comply with such regulations because the topic requires its own dedicated discussion but I will give a couple of pointers to give you a starting idea.
Firstly and most importantly, you should send commercial emails to only those who gave you their consent for communicating with them via email. For example, this may be a list of your blog readers who subscribed to your newsletter to receive information and offers, or it may be a list of customers who purchased your products and asked you to send them updates and promotions. Secondly, you should provide your up-to-date contact information and a simple mechanism to unsubscribe from receiving further emails from you.
You can (no, you should) also check FTC's CAN-SPAM Act page to learn more about how to craft compliant emails. That page is specifically designed for the US businesses and consumers; different countries may have different spam laws and regulations and you should be wary of yours.
As a final friendly advice, never send spam emails, never use an email blast software or an email marketing service to send spam, always try your best to comply with spam laws and remember to report spam emails whenever you receive one.
Now that we've made clarifications about the correct way of sending commercial emails in order your emails not to be reported as spam and not to stumble into legal issues, we can continue with talking about what email blasting software and email marketing service is and how they differ.
What is Email Blasting Software?
Email blast software is a piece of desktop or online software that allows you to enter a list of email addresses, compile an email and send it to all those addresses at once, automatically. Both versions (desktop or online) may work on different principles and may have different set of limitations depending on the operating system or server environment they are installed on.
SendBlaster and SenderMatic can be given as examples of email blasting software that you can download and install on your computer and use to send bulk emails.
What is Email Marketing Service?
An email marketing service is an online service platform that provides the tools and the server to run that tools for building and keeping track of email lists, sending bulk emails, creating email campaigns and autoresponders and other things related to online email marketing activities.
MailChimp, AWeber, GetResponse and iContact can be given as examples to some of the most popular email marketing services.
Which one to Choose: Email Blast Software or Email Marketing Service?
Though both the email blasting software and email marketing services all serve for the same purpose of sending bulk emails and delivering your message to your subscribers' inbox, they may fall into different categories based on how they work and their pricing options. Let's briefly see how they compare in some of the important factors.
PRICING:
Your decision in terms of pricing will be based on your budget and what you will get from each platform for the money you will be paying. In general, email blast software, especially the ones that you download and install to your computer, have a one-time fee. Email marketing services on the other hand has a monthly or annual recurring fee since they let you use the tools that are hosted on their platform and their server to send the emails.
Most email marketing services also offer free trials or totally free plans that you may try if you are on a budget. For example, MailChimp has probably the best free email marketing plan that allows you to have up to 2,000 subscribers in your lists and to send up to 12,000 emails per month, without paying a cent, that is as long as you use their service fairly, by staying within their usage terms. I have been using their service for over 6 years and I can highly recommend them.
FEATURES
From my own experience, I can tell that online email marketing services offer more features compared to email blasting software. Though they may have common features such as crafting emails and creating campaigns, usually the online services are used by wider audiences and supported by larger teams, hence they result in having a lot of features that you might find useful to have during your email marketing activities.
Independence of platform (you can access an email marketing service website via a web browser from anywhere), drag and drop email creators, landing page builders, subscriber list maintenance and organization, A/B testing, availability on Android and iOS devices all make the choice of an email marketing service more favorable.
EASE OF USE
In addition to the features a program or a platform offers, its interface and usability also affects your success in using it and turning it into a powerful tool in your business. Desktop software and online applications usually have differently structured interfaces and which one you will find easier to get used to will depend on your preferences.
I personally prefer online application interfaces when it comes to sending emails and maintaining my subscriber lists.
RELIABILITY & DELIVERABILITY
Reliability and deliverability are two highly important factors while deciding to choose a platform to conduct your email marketing activities. Reliability is a combination of a couple of things such as being a legit software/service provider, having no major problems in their operation history, having good reviews by their users, being available at the time you need to use their service and so on. Deliverability is the success rate of your emails hitting the inbox of your subscribers.
Established email marketing services have a proven track record for their reliability and deliverability which is obvious from their millions of recurring users hence, you should keep that in mind while deciding.
Before making any financial investments into any email marketing software or service, the best thing to do would be to give them a try and see how they work for you as this will help you decide if what they are offering is what you need.
In the process of deciding to choose a platform to start your email marketing campaigns, whether you use a bulk email blasting software or an online email marketing service, remember to always obey the spam rules and pay great attention to the privacy an personal data safety of your subscribers.