How to Check the Android Version of Your Mobile Phone
In this tutorial, I will show you how to easily check the Android version of your mobile phone or tablet with the help of some screenshots taken from a Samsung mobile phone with Android operating system.
You probably heard the term "Android device" many times. It refers to mobile devices such as phones, tablets or watches, and TVs that are built with the Android platform. Android is a highly popular operating system that you can find on most mobile phones in the market today. Probably you or someone you know already has an Android phone.
Like all software and other operating systems, Android is also actively developed (by Google), maintained and updated to newer versions from time to time. Newest devices usually come with the latest stable Android build but if you have an old device that is purchased a couple of years ago, it most probably has an older Android version installed.
TIP: Currently, the latest Android release is Android 6.0 Marshmallow, but that may not be available for or compatible with your device. If you want to upgrade your mobile device to the latest Android version, you should check the details on the website of your device manufacturer.
Check the Android Version of Your Mobile Phone
In the following section, I will demonstrate how you can quickly check what version of Android your mobile device is using, with the help of a Samsung Galaxy S3 Mini phone.
STEP 1: Open your phone and go to the Settings page.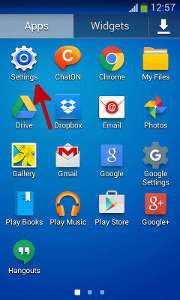 You can find the Settings page within your Applications list.
This will open the Settings page where you can adjust settings for your Connections, My Device, Accounts and more.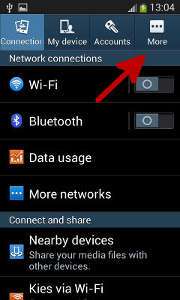 STEP 2: Tap on More tab.
This will open the page where you can find settings for security, battery, storage and application manager.
STEP 3: Slide down to the bottom of the settings page, where you will see the About device option.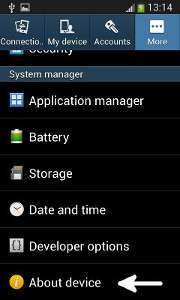 STEP 4: Tap About device to open the page that provides information about your mobile phone and its Android platform. You will see the version information in the Android version section as shown below: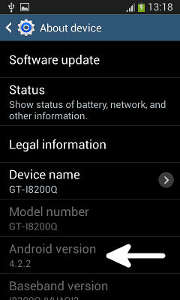 For example, the device I used for the demonstration has Android 4.2.2 installed on it. Similarly, you can also check the Android version on your tablet by following the same steps as you did for your phone.