How to Search YouTube More Effectively
Did you know that you can improve the chances of finding a video on YouTube by using the search effectively? In this post, we will provide 5 tips to help you with your YouTube searches and find the videos you are looking for easily.
As the most popular video sharing and watching website, you may find almost anything on YouTube. Not only it has a huge archive of millions of videos, but also many more videos are being uploaded by users from all around the world on a daily basis. While this increases the chances of finding something on YouTube, it may also make it difficult to find the exact videos that you are looking for, due to the crowd of videos.
Whatever you are searching for on YouTube, sometimes you may find it in a single search but sometimes it may take minutes or even hours to find what you are looking for. Worse than spending hours on searching for a video and finding it is spending hours and not finding it. Whether you are searching for a video someone mentioned earlier, or a less known concert video of your favorite music band from 90s, or a Top-10 video you sure have seen before but can't find now, YouTube search may give you a hard time finding what you really want.
To help you search YouTube and find the videos you are looking for quickly and easily, we prepared 5 tips you can apply while performing your searches.
Use Double Quotes Around Your Search Term
Similar to how search queries work on search engines, adding double quotes around your search term while searching for videos on YouTube will result in more relevant videos to be listed in the search results. For example, if you are looking for movie trailers for movies that are released in 2017, you can enter the following terms with double quotes into the search box:
"movie trailers 2017"

(© 2020 Google LLC, used with permission. YouTube and the YouTube logo are registered trademarks of Google LLC.)
This will tell YouTube to find only the videos that are most relevant to your search term and that have the search term in their title or description.
Change YouTube Language and Country Settings
When you open YouTube website, it will display your local version in your local language, by default. While changing the language and country settings may not have a direct effect on the search results, using YouTube in the same language and country of the video you are looking for may make your overall search process easier.
You can change the language and country from the dropdown menus at the bottom of any YouTube page.

Sometimes, changing the language or country settings may also give you more ideas to fine-tune your search.
Check Your Watch History and Search History
If the video you are looking for is a video that you have searched for and watched previously, inspecting your watch history and search history will be a good start to find it. Often times, you will be able to find the video much easier this way.
You can access your account activity log pages from the History link on the left sidebar navigation menu.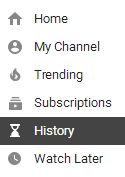 Note that, if you disable or clear your YouTube watch history, you won't be able to find the videos you are looking for in your watch history. Similarly, you won't be able to find what you are looking for within your search history.
Use the Search Filters
When you make a search on YouTube, you can improve it and find better results using the many available filters. After performing the search, simply click the Filters button on the top left corner of the search results section to access filters for upload date, search type (video, channel, playlist, movie, show), duration (short or long), features (4K, HD, subtitles, creative commons, 3D, live, purchased, 360°) and an option to sort the results by relevance, upload date, view count or rating.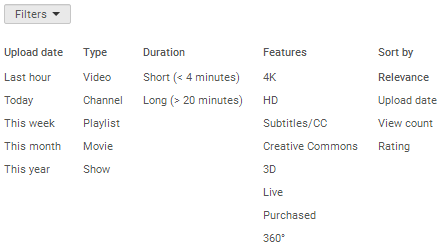 YouTube returns a limited number of videos for each search; hence, using the filters will help you a lot in finding the videos you are looking for.
Deactivate Restricted Mode
Sometimes, a video you are seeking might be visible only when the Restricted Mode is inactive. Restricted Mode is a mode that hides videos that are considered to be inappropriate by the general audience for varying criteria.
The button to activate/deactivate the Restricted Mode is at the bottom of the page, next to the language and country settings. Deactivate it if it is active, make your search again and see if you will be able to find what you seek.
Before ending this post, let me tell you that even though you may find any type of videos on YouTube about pretty much everything, it is also possible that what you are looking for may not exist on this most popular video sharing website. Therefore, after a reasonable amount of time and effort, it would be best to abandon your search as it may turn out to be nothing but a waste of time if you keep searching.